Plan Your Visit to Pearl Harbor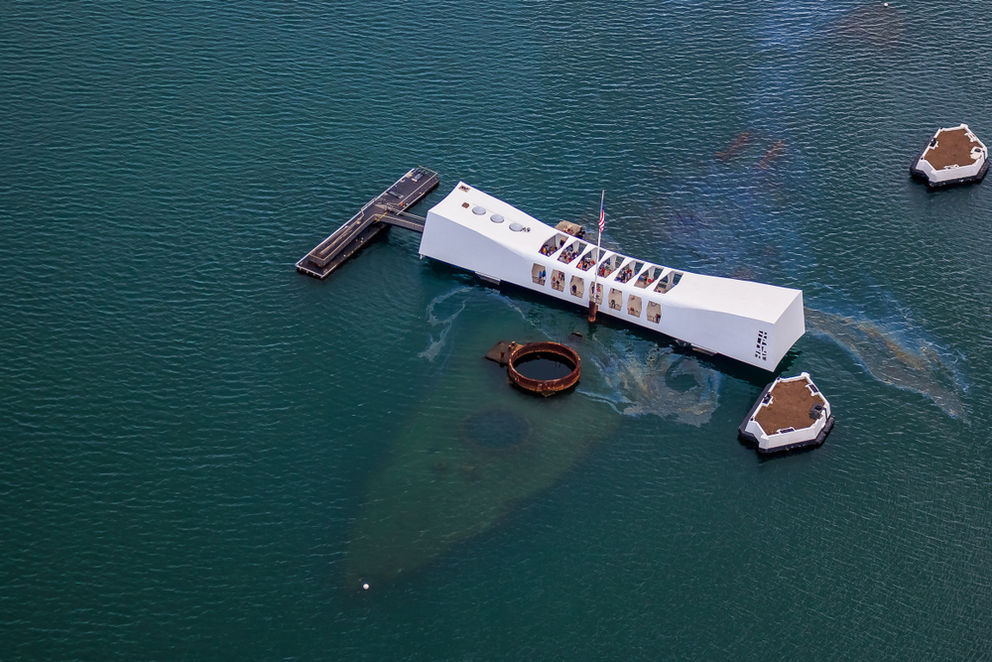 Regardless of age or nationality, Pearl Harbor is a compelling site to any visitor. The surprise attack on Pearl Harbor launched by the Imperial Japanese Army on Dec. 7, 1941 played a significant role in shaping the outcome of WWII. The active military base is full of artifacts, vintage aircraft carriers, submarines, and battleships. You don't want to miss a visit to this historic site during your stay in Oahu.
There are four main historic sites for visitors to see in Pearl Harbor. Plan ahead by reading up on transportation, ticketing and which historic sites to visit during your day trip to Pearl Harbor.
Transportation
At Aston Waikiki Beach Hotel, Pleasant Holidays offers a seamless shuttle package for your day trip to Pearl Harbor. Call Pleasant Holidays for information at 808-922-8363 or stop by the tour desk, on the third floor for more information.
Tickets
Tickets are available to the four main sites at the Pearl Harbor Visitor Center, located at 1 Arizona Memorial Pl., Honolulu. However, museum prices can add up. If you plan to visit multiple sites, the Passport to Pearl Harbor includes full or half-day tours at a set price. See your options at the Pearl Harbor Historic Site ticketing page.
USS Arizona Memorial
This somber memorial is widely visited and doesn't charge entry because of its status as an active military cemetery. The USS Arizona sank during the surprise attack on Pearl Harbor, bringing 1,177 sailors and marines down with it. Because of the United States' swift move to enter WWII after the attacks, there was no time to recover all the bodies. Remains of over 900 soldiers rest in the ship's hulls, submerged in 40 feet of water. Today a memorial floats over the sunken ship, which is accessible by boat from the Pearl Harbor Visitor Center.
Know ahead of time: While tickets are free, there is a limited amount of daily traffic ferried to the USS Arizona. Visitors have two options: arrive early to claim one of 1,300 tickets handed out daily (all must be present) or book your ticket in advance (which includes a service fee) at www.recreation.gov.
Pacific Aviation Museum
The Pacific Aviation Museum displays vintage aircraft and WWII-era hangers, some of which still show damage from the surprise attack. The combat flight simulator is especially exciting. Make note of the Ford Island Field Control Tower, which was 80 percent complete at the time of the attack.
Know ahead of time: General admission includes audio tours, which can be purchased ahead of time for a discounted rate. See the Pacific Aviation Museum website for details.
USS Bowfin Submarine Museum & Park
If you're a history buff or fascinated by submarines, this museum park has it all. Walk around the tight quarters of a WWII-era sub that successfully sank 44 enemy ships. Explore US history in submarine warfare, from torpedos to weapons systems.
Know ahead of time: Submarine quarters are cramped and not air conditioned. Be prepared for tight quarters and possibly warm conditions. Single tickets can also be purchased for museum or submarine entry. Self-guided audio tours are included in admission. See info.
USS Battleship Missouri Memorial
The USS Missouri, aka "Mighty Mo," is the last battleship ever built by the United States. This massive ship was used in WWII, the Korean and Persian Gulf Wars, and was the site of the Japanese surrender of WWII. Walk the upper and lower decks of this impressive ship and check out crew sleeping quarters, control rooms, engine rooms, and a interesting collection of artifacts. Tickets are steep but it's well worth the visit.
Know ahead of time: Battleship Missouri is the size of three football fields. Make sure you have enough time to explore!
*Pro-Tip: As an active military base, bags aren't permitted at Pearl Harbor. You can rent out a locker to store personal items at the visitor center, or plan to pack light.
--
Aston Waikiki Beach Hotel is located just steps away from Kuhio Beach in Waikiki. Its central location with views of the ocean and Diamond Head make it one of the best in the area. See our special offers.
Special Offers
Nothing beats having some extra money for your travels to Hawaii. Enjoy great savings when you book directly at the Aston Waikiki Beach Hotel.