A Look at Hawaiian Royalty: Plan Your Visit to ʻIolani Palace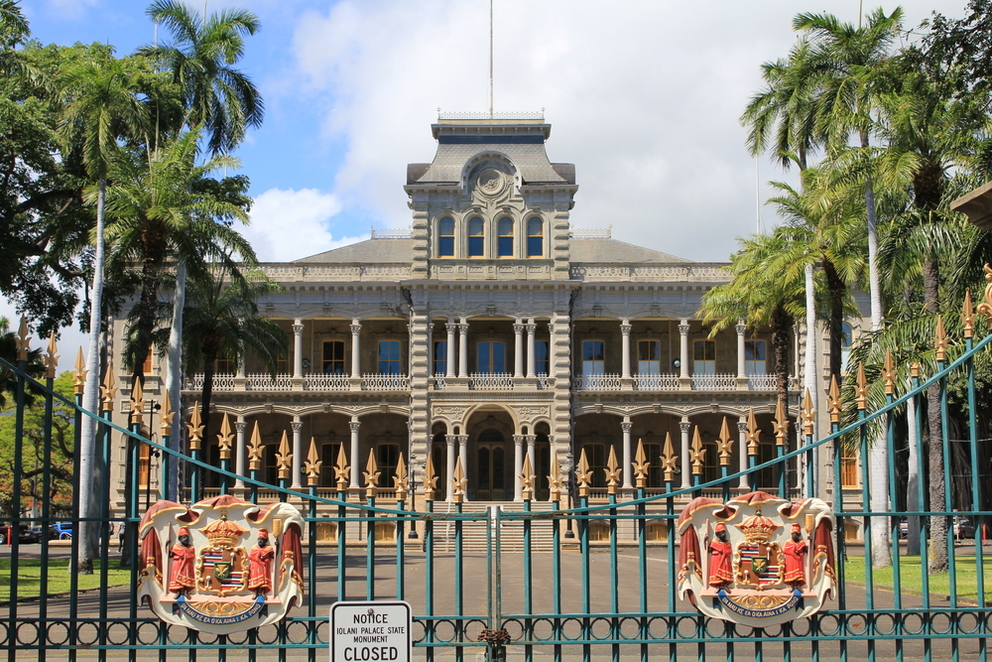 Once home to Hawaii's last reigning monarchs, the ʻIolani Palace is a significant cultural activity in Oahu. Later serving as the state's capitol building, the royal palace has since been restored to its original grandeur.
Today, the ʻIolani Palace remains an important centerpiece of Hawaiian national identity. It's open year-round to the public as a means to interpret, share and celebrate the unique qualities of its people. Visitors to Oahu can't miss a visit to the ʻIolani Palace in downtown Honolulu. Here are some tips for your visit.
Get there
The ʻIolani Palace is located in downtown Honolulu, just 20 minutes from Aston Waikiki Beach Hotel. Using public transit, guests can easily take the #2 bus from Kuhio and Paoakalani Avenues. See route and check out current fares (note: drivers do not provide change).
If guests have access to their own car, vehicle entrance to the palace is located off Likelike Mall. See the route from Aston Waikiki Beach Hotel. Only metered parking is available at the palace, accepting quarters (25 cents/15 minutes). An easier option may be opting for the private parking garage at 1099 Alakea Street, which charges fair, hourly rates.
Hours, arrival info
ʻIolani Palace is open 9am-4pm Monday through Saturday.
Make sure to dress in a manner that is respectful to the culture and historical significance of the ʻIolani Palace. Shirts and footwear are required; bathing suits or beach cover-ups are not permitted. Backpacks, large bags and professional photography is not permitted. Read more on the ʻIolani Palace website.
Tours
Guided tours and self-led audio tours are available and highly recommended. This way, guests leave with a better understanding of the history of the palace and Hawaiian heritage. The audio tour runs 45 minutes and is available in English, French, German, Hawaiian, Japanese, Korean, Mandarin, and Spanish. Japanese language tours are available Monday, Tuesday, Wednesday and Friday at 11:30am.
See
First, take in the unique architecture of the palace, known as American Florentine. You won't see this kind of architecture anywhere else. Explore the grounds of the palace before or after taking the royal tour. Make note of the signs around the grounds that say "kapu," which means "consecrated" as well as "keep off."
The Coronation Pavilion on the royal grounds was originally built for the coronation ceremony of King Kalakaua and Queen Kapiolani; today it acts as a stage for The Royal Hawaiian Band and for state governor inauguration ceremonies.
The first and second floors of the palace are open to the public.
Once in the Grand Hall, take a good look at the staircase. The impressive centerpiece was constructed out of native Hawaiian wood, koa, which was also used by ancient Hawaiians to make surfboards and canoes.
The palace was both a royal residence and a prison to Queen Liliuokalani, who was banished to an upstairs room for nearly eight months after the monarchy was overthrown. She spent much of her time quilting, which is on display in the Imprisonment Room.
Don't miss out on significant details that make the palace so interesting – make sure to take a guided or audio tour to learn the history behind every room of the palace.
--
Aston Waikiki Beach Hotel is located just steps away from Kuhio Beach in Waikiki. Its central location with views of the ocean and Diamond Head make it one of the best in the area. See our special offers.
Special Offers
Nothing beats having some extra money for your travels to Hawaii. Enjoy great savings when you book directly at the Aston Waikiki Beach Hotel.