Your Honolulu Sunset Guide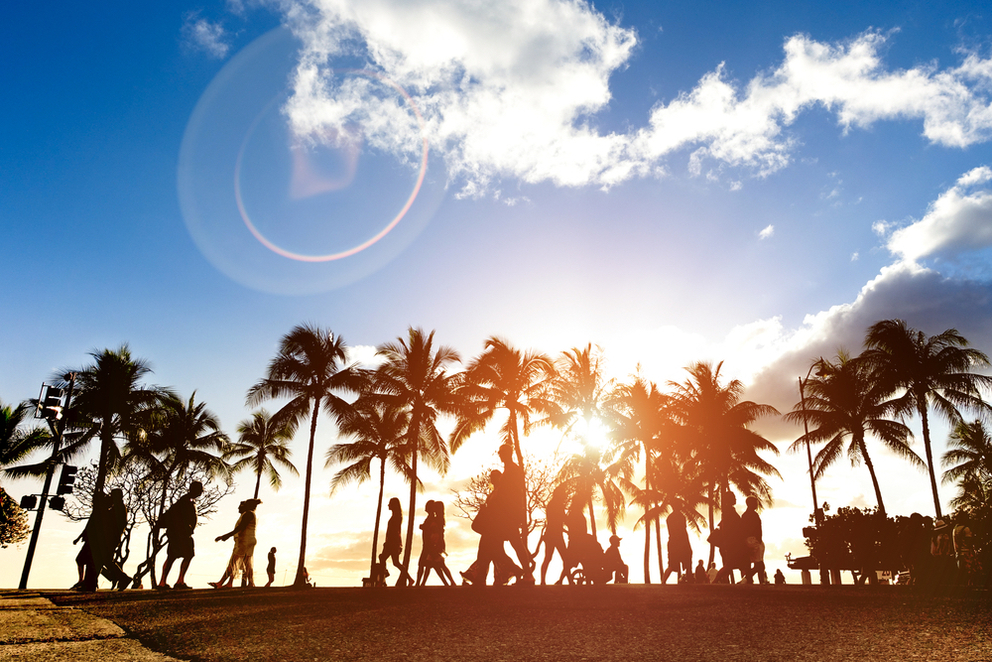 Sunset in Hawaii is something special, with colorful hues that are both alluring and stirring to onlookers. There's no better way to bring peaceful reflection to the end of your day than celebrating sunset in Oahu.
You don't have to go far to witness a Hawaii sunset during your stay at Aston Waikiki Beach Hotel. Stunning sunset views can be enjoyed right from the comfort of your room. Rooms located poolside and those facing west have amazing sunset views; poolside rooms are also complete with full balconies. Make sure to request a poolside room while booking your stay so you never miss a fabulous sunset.
In the mood for outdoor lanai dining and tropical drinks to go with your sunset? Tiki's Grill & Bar located on the third floor of Aston Waikiki Beach Hotel offers a pleasant atmosphere with great views. Watch the sun go down over Kuhio Beach from Tiki's while listening to island music performed live daily. Take a look at who is playing during your stay with Tiki's Grill & Bar music calendar.
Explore these other spots on the island for stunning sunsets.
Kuhio Beach
Kuhio Beach is just steps away from Aston Waikiki Beach Hotel. Catch the Kuhio Beach Torch Lighting & Hula Show held during sunset every Tuesday, Thursday and Saturday. The sunset celebration begins with traditional conch blowing and torch lighting, followed by authentic Hawaiian music and hula shows by Hawaiian dancers. Bring a blanket or beach chair and arrive early to get a good spot for the show at the Kuhio Beach hula mound on Kalakaua Avenue near Uluniu Avenue. The sunset ceremony runs 6:30-7:30 pm and 6-7 pm November through January. Also, make sure to read up on what to bring for a day at Kuhio Beach.
Tantalus Lookout at Puu Ualakaa State Wayside
Want to watch the sun go down from the top of the world? The Tantalus Lookout will give you that impression. A 15-minute drive from Downtown Honolulu, Mt. Tantalus is located in Puu Ualakaa State Wayside. The park has free entry and the lookout is a grassy hill that overlooks southern Oahu, Diamond Head, and the Pacific Ocean. Bring a blanket or chair to watch the sunset show unfold. Tantalus Lookout is located up a narrow, winding road with hairpin turns that can become congested around sunset time. Proceed with caution and enjoy the diverse roadside greenery. Once you reach the parking lot, remember to lock your car and take valuables with you. The park closes at 7:45 pm and 6:45 pm during the winter months.
Ala Moana Beach Park
Set between Honolulu and Waikiki Beach, Ala Moana Beach Park is mostly quiet during the weekdays with ample space to enjoy a picnic and views of Waikiki and Diamond Head. Ala Moana is favored for its sunsets and grassy areas equipped with picnic tables. Stop by the food court at the Ala Moana Center across the street and order food to go for an impromptu sunset picnic at Ala Moana Beach Park.
China Walls
If you're looking for a change of scenery, we suggest you watch sundown from lava-rock ledges on the eastern tip of Oahu. The China Walls offer an awesome vantage point –and atmosphere– to see the daylight hours come to an end. Visit the China Walls (aka Koko Kai Mini Beach Park) to watch locals and visitors surf, fish, and watch the sunset. Koko Kai Mini Beach Park is a 10-mile drive from Aston Waikiki Beach Hotel. The park is busiest around sunset, so arrive early to enjoy the scenery before the glorious Oahu sunset.
--
Located just steps from Kuhio Beach, Aston Waikiki Beach Hotel is the best option for your stay in Waikiki. Enjoy special offers by booking direct. See special offers.
Special Offers
Nothing beats having some extra money for your travels to Hawaii. Enjoy great savings when you book directly at the Aston Waikiki Beach Hotel.