Hike these Sublime Trails Near Waikiki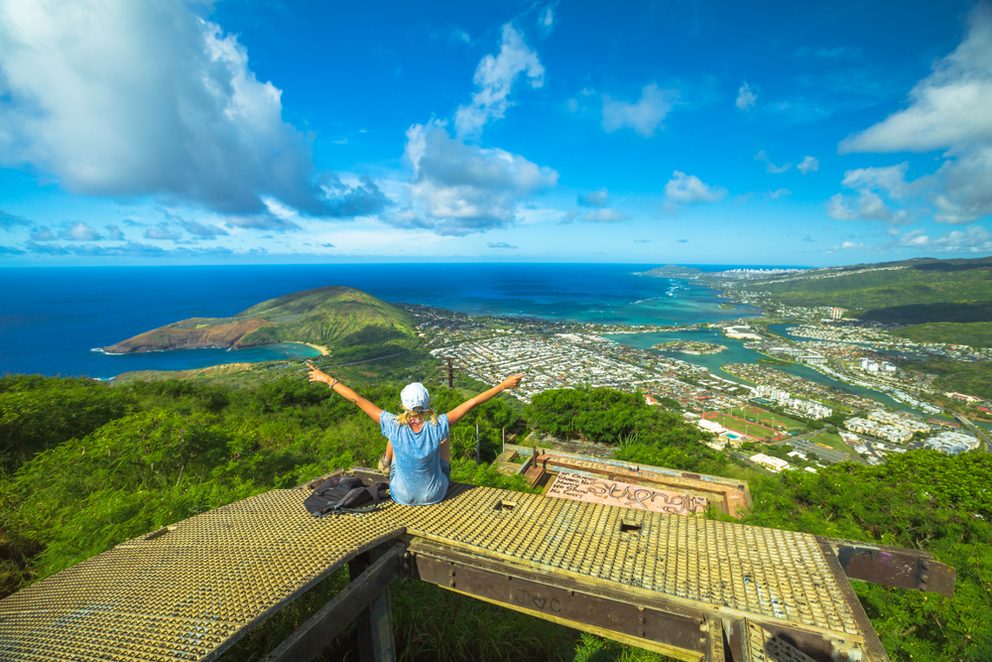 The natural beauty of Hawaii has drawn visitors to its islands for centuries. Visitors can scale ancient volcano craters, take in wide-open shorelines, and hike lush mountains with breathtaking views.
Best of all, there's an abundance of hiking trails not far from your stay at Aston Waikiki Beach Hotel. Pack your good walking shoes and check out our favorite nearby trails.
Manoa Falls
Length: 1.6 miles round-trip
Difficulty: Easy
This is a popular and accessible waterfall in Oahu. Hike through a tropical forest with lush, green vegetation before arriving at the 150-foot fall that empties into a shallow pool (swimming not permitted). Visitors typically spend around 1.5 hours to hike in and out of Manoa. It's best visited the day after it rains when the waterfall is most powerful. In any condition, expect a trail that's damp, wet, and likely to leave some mud on your shoes. Tip: Apply bug spray beforehand! This trail is visited by both tourists and mosquitoes. See map.
Diamond Head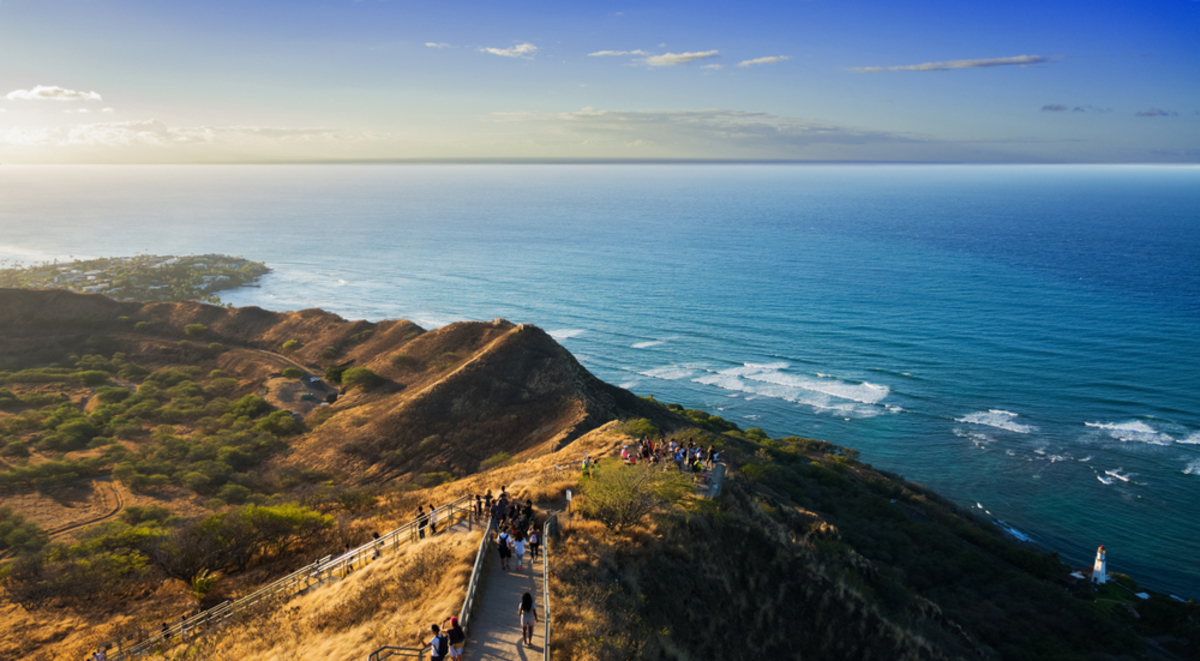 Length: 1.6 miles round-trip
Difficulty: Moderate
Visible from southeastern-facing rooms at Aston Waikiki Beach Hotel, Diamond Head is a 300,000 year-old crater located at the southern edge of Waikiki. With views that make you feel like you're at the top of the world, you can't just enjoy this crater from afar. Make plans to scale the state monument using our Diamond Head hiking guide. Allow yourself at least two hours for the round-trip hike and time to take in the view. Tip: the last entrance to hike the trail is at 4:30 pm. See map.
Koko Head Crater Trail
Length: 1.8 miles round-trip
Difficulty: Hard
Muster up your willpower to reach this ancient tuff cone that overlooks views of the eastern Honolulu shoreline. The Koko Head hike utilizes old train tracks to make over 1,000 steps with a 990-foot elevation gain. It's well-traveled, steep as can be, and a real workout. Pack water, stop for breaks (while the locals make it look easy), and take it slow. The steep ascent takes roughly an hour. The last 100 steps are the hardest, but panoramic views, a fresh breeze and bragging rights make it worth it. Plus, there's a bell at the top you can ring to celebrate your victory. See map.
Makapu'u Point Lighthouse Trail
Length: 1.5 miles round-trip
Difficulty: Moderate
This lighthouse trail is further from Waikiki than the other hikes, but its view of the southeastern shoreline is unmatched. The paved path takes you to the iconic 1909 lighthouse, tucked away at the edge of the coast. The lighthouse is off-limits but makes for a great photo. Look for whales during migration times, December through May. On a clear day, look for Molokai and Lanai Island. See map.
*Pro Tip: You don't need a car to see Oahu! Public transportation is an accessible option with stops right near Aston Waikiki Beach Hotel. Map out your trip direct on The Bus website here.
--
Aston Waikiki Beach Hotel is located just steps away from Kuhio Beach in Waikiki. Its central location with views of the ocean and Diamond Head make it one of the best in the area. See our special offers.
Special Offers
Nothing beats having some extra money for your travels to Hawaii. Enjoy great savings when you book directly at the Aston Waikiki Beach Hotel.