Snorkeling Hanauma Bay State Park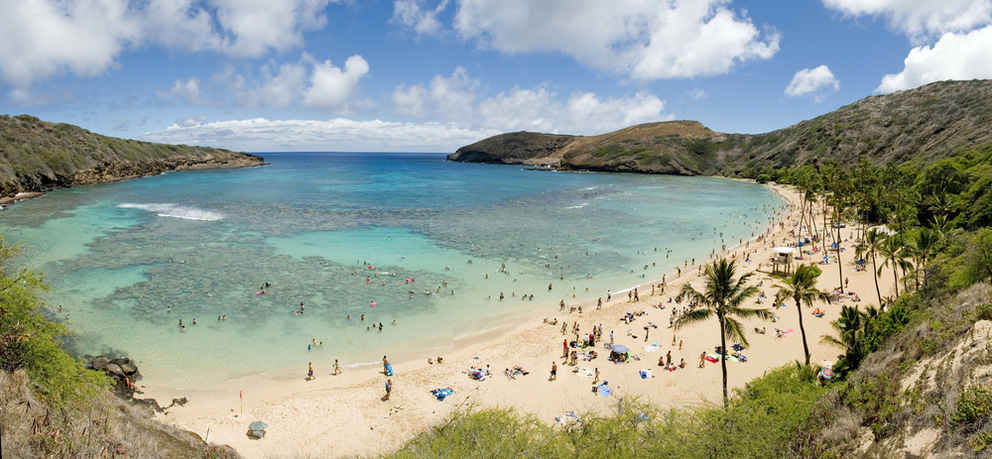 The pristine waters, coral heads, and colorful marine life of Hanauma Bay Nature Reserve make it a desirable spot to snorkel in Honolulu. Its marine ecosystem is one of the most visited destinations in all of Oahu, drawing roughly 3,000 visitors daily. Interested in a trip out to Hanauma Bay? Let us be your guide.
What to Bring
Pack light! The walk down to Hanauma Bay from the parking lot can be steep, so leave the cooler behind. (A cash-only tram down to Hanauma is available. More on that later.)
-Reef-friendly sunblock. Not sure what constitutes reef-safe sunscreen? Read the Hanauma sunblock guide.
-Towel
-Cash for tram or snack bar
-Water, possibly a light snack. There is also snack bar with food for purchase
-Sun hat
-Floaties or life jackets (if you so desire)
-Underwater camera for excellent shots

Getting There
Shuttle: There are a few options for getting to Hanauma Bay; the most popular is booking a round-trip shuttle. The Hanauma Bay Snorkel Tour is the best deal, $25 for adult (13 years and up), $22 for child (4-12 years old), and lap child (infants 3 and under) is free. Tour includes snorkeling gear and pick-up and drop-off at the front entrance of Aston Waikiki Beach Hotel. See daily schedule and additional info.
Bus: The #22 Bus to Sea Life Park is the least expensive option to Hanauma Bay and takes about 50 minutes from Waikiki. See bus schedule.
Drive: Taking your own car isn't recommended, unless you arrive super early – with just 300 stalls, the parking lot typically fills up within 30 minutes of opening. Guests that don't find parking are turned away. Parking is $1 (cash only).
Price
Park entry is not included with any shuttle service. As of 2018, park entry is set at $7.50 (kids 12 and under are free, as well as locals and active military). Park entry doesn't include snorkel gear, which is available for $20. Tram service is also available down to the bay, as well as locker rentals. Bring cash for tram service, and purchases from the gift shop and snack bar.
Equipment
Visitors can bring their own snorkel equipment or rent gear from a hut located near the restrooms. Prescription snorkel masks are available for the near-sighted.
Marine life
The general rule of Hanauma is look but don't touch. This way, Hanauma can be enjoyed for generations to come. Green turtles inhabit the waters at Hanauma Bay, but don't get too close to these endangered animals! (Note: touching sea turtles in Hawaii is illegal). Look for active marine life on coral heads, like the Hawaiian state fish Humuhumunukunukuapua'a (aka triggerfish), parrot fish, tang, butterfly fish, and more.
--
Aston Waikiki Beach Hotel is located just steps away from Kuhio Beach in Waikiki. Its central location with views of the ocean and Diamond Head make it one of the best in the area. See our special offers.
Special Offers
Nothing beats having some extra money for your travels to Hawaii. Enjoy great savings when you book directly at the Aston Waikiki Beach Hotel.