Where to Get Your Morning Brew in Waikiki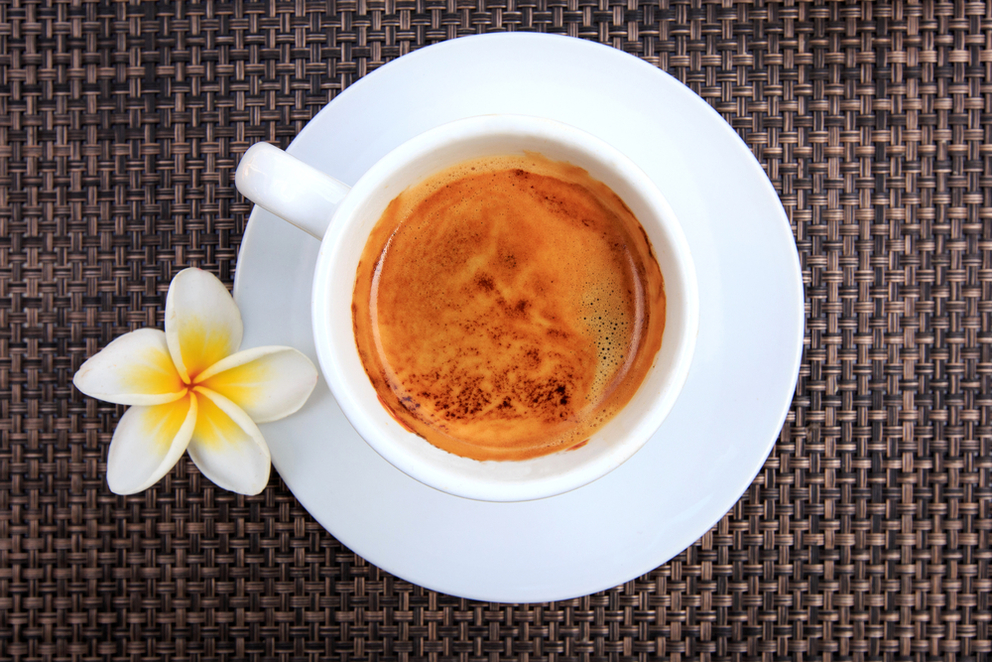 Hawaiian Kona coffee is regarded as the best in the world because of its rich, fragrant flavor. The island's high elevation, mineral-rich volcanic soil and daily cloud coverage make ideal conditions for growing the perfect coffee bean.
Want a taste of Kona in your cup? Try these coffee shops near Aston Waikiki Beach Hotel to kick-start your day the aloha way.
Tiki's Grill & Bar
Tiki's Grill & Bar offers grab-and-go coffee that's easily accessible for Aston Waikiki Beach Hotel guests. If you're looking for something to eat with your morning cup of joe, a continental breakfast buffet is available at Tiki's. It offers pastries, fresh fruit, muffins, juice, and more. Stop by on your way out to explore Honolulu on the third floor of Aston Waikiki Beach Hotel.
For more breakfast options, Wolfgang Puck Express on the first floor offers fresh, tasty options for the most important meal of the day. See breakfast menu here.
Starbucks
For guests looking for the nearest coffee no matter its origin, Starbucks is located just around the corner from Aston Waikiki Beach Hotel. Exiting the hotel, take a left on Kalakaua Avenue – Starbucks is located just on the corner. 2586 Kalakaua Ave. - walking map
Kona Street Purveyors
Kona Street Purveyors is a favorite among coffee purists. The high-end coffee shop specializes in artisan Kona coffee, which is both fragrant and smooth. Dairy alternatives such as soy, oat and almond milk are available. Don't visit without trying a pastry – Kona Street is known for having the tastiest pastries on the island. Located in the International Market Place. Open 6 am to 11 pm. 2330 Kalakaua Ave. - walking map
Banyan Breeze
Situated just a block up from Aston Waikiki Beach Hotel, Banyan Breeze is an independent coffee shop tucked away on the ground-level floor of Aston Banyan. The shop has fair prices, a good coffee selection and indulgent pastries. Try the macadamia nut latté for a taste of the island. Open 6 am to 5 pm daily. 201 Ohua Ave. - walking map
Island Vintage Coffee
With over 20 years of experience serving 100 percent Kona coffee, Island Vintage Coffee is a reputable local company. Fresh, strong brews, specialty drinks and breakfast fare makes this a popular spot. Long lines are typical in the morning hours, so be prepared for a wait. Located in the Royal Hawaiian Center. Open daily 6 am to 11 pm; food served 7 am to 3 pm. 2301 Kalakaua Ave. - walking map
Kai Coffee Hawaii
The family-operated Kai Coffee Hawaii serves "an aloha in every cup" with its handcrafted Hawaiian cafe. Locals and visitors go gaga for the Kai Latte, which is topped with macadamia nuts coated in toffee and chocolate. The coffee is smooth and the macadamia whipped cream is unlike anything you've ever tasted. Open 5:30 am to 11 pm daily. 2424 Kalakaua Ave., Unit 129 - walking map
--
Aston Waikiki Beach Hotel is located just steps away from Kuhio Beach in Waikiki. Its central location with views of the ocean and Diamond Head make it one of the best in the area. See our special offers.
Special Offers
Nothing beats having some extra money for your travels to Hawaii. Enjoy great savings when you book directly at the Aston Waikiki Beach Hotel.