Breaks and Brews: A Hawaii Beer History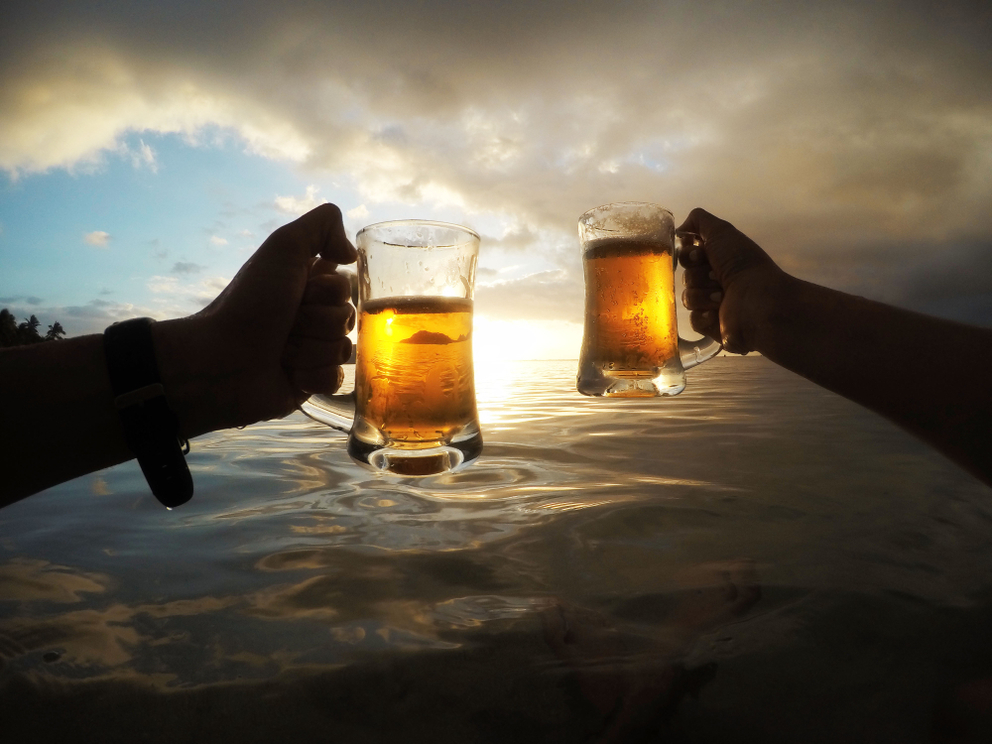 Usually associated with bright tiki cocktails decorated with paper parasols, Hawaii doesn't typically conjure up images of its local beer. But the scene on the island has drastically changed in recent years, with local brick-and-mortar companies building a craft brew selection that is pleasing to both locals and tourists seeking a taste of the island.
Historically, beer culture and alcohol consumption simply didn't exist on the island. Long before its introduction, Pacific Islanders brought 'awa root (known elsewhere as kava) to Hawaii. The pepper root was soaked in water and consumed as a sacred drink, used in healing ceremonies. Although non-alcoholic, the beverage has a sedating or euphoric effect (it is still consumed to this day). Its popularity decreased in the 1940s when consumption of other alcohol – especially beer – increased.
Beer was introduced to the island by Europeans, but it was hardly an instant success. The first brewery appeared in 1854, though the longevity of local breweries stumbled through the turn of the century. Primo Lager became the island's first successful beer, but prohibition arrived early to Hawaii. From 1918 to 1933, production stalled. This is right around the time when the consumption of 'awa root sharply declined.
Labor strikes and WWII further inhibited manufacturing, eventually pushing the production of Primo elsewhere and under new ownership. Today, it's owned by the Pabst Brewing Company and available across the island.
Locals, on the other hand, have taken to crafting their own island brews. Both large and micro breweries scattered across the islands celebrate the culture and flavors of Hawaii. We invite you to try local brews during your stay, which you don't have to travel far to taste.
Try beers on draft from Kona Brewing Company at Tiki's Grill & Bar at Aston Waikiki Beach Hotel. A local favorite, Kona started brewing on the island back in 1994. While now owned by a larger parent company, the company's roots hold firm in the community. We recommend the Longboard Island Lager, which is a crisp, easy-going beer. Big Wave is another favorite. The blonde ale compliments Hawaii's warm climate. Visit Tiki's during happy hour, 2-5 pm daily, for sunset views and live music.
Another excellent option is the Maui Brewing Company, which has a brewpub located just 10 minutes from Aston Waikiki Beach Hotel. The Bikini Blonde Lager is the perfect accompaniment to a sunny day. The Pineapple Mana Wheat Ale will give you a taste of Hawaii, and the Big Swell beer is popular for its unmatched hoppiness. The Maui Brewing Co. pub is located just down the street at 2300 Kalakaua Ave.
--
Aston Waikiki Beach Hotel is located just steps away from Kuhio Beach in Waikiki. Its central location with views of the ocean and Diamond Head make it one of the best in the area. See our special offers.
Special Offers
Nothing beats having some extra money for your travels to Hawaii. Enjoy great savings when you book directly at the Aston Waikiki Beach Hotel.