Hawai'i's Love Affair with SPAM Culminates in Annual 'SPAM Jam' Festival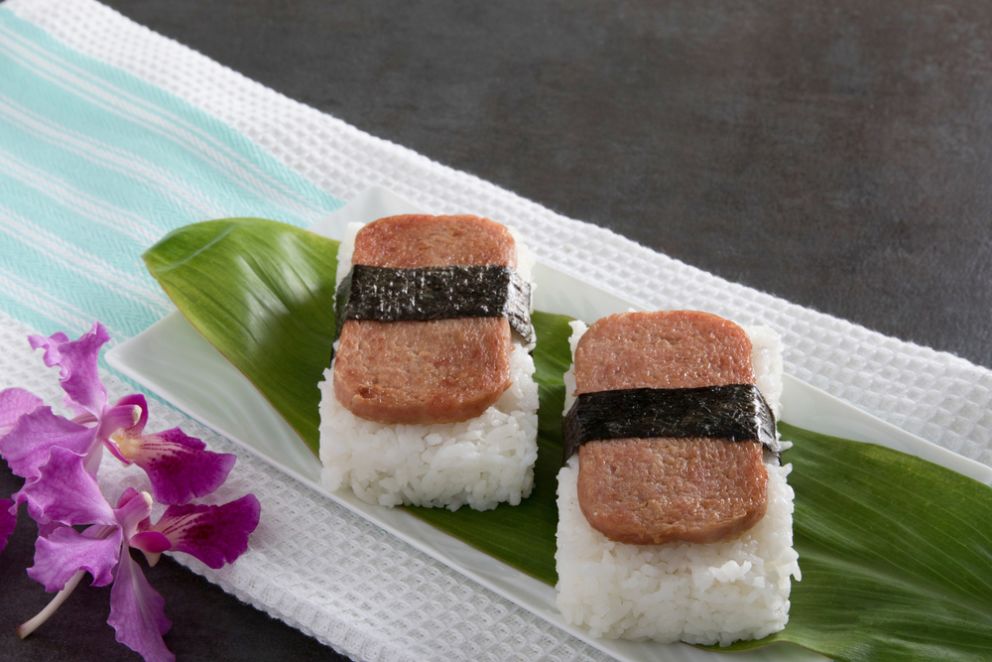 The Waikiki SPAM Jam returns April 22 through May 1, 2022. The island's most popular annual food festival highlights its appreciation for the versatile, canned pork.
It's no secret that Hawai'i loves SPAM. Brought to the island during World War II as a hardly-perishable way to feed troops, the canned, cooked meat has stuck around ever since, finding its way in scrambled eggs or atop rice wrapped with seaweed.
SPAM creations are as diverse as the island itself and found everywhere – on restaurant menus or as a quick snack in convenience stores (typically served in fried rice dishes or as common breakfast fare). SPAM is even included on the Hawai'i McDonald's menu!
The Waikiki SPAM Jam is the island's most popular annual food festival that highlights its appreciation for the salty canned pork product made by the Hormel Foods Corporation. The block party includes live music, vendors, and SPAM, in all its forms: chocolate-dipped, breaded and fried, as a corn dog or in a poke bowl. The Waikiki SPAM Jam is always free, and past festivals have attracted crowds of up to 35,000.
Take advantage of the island's embrace of SPAM and make sure to bring cash for unique souvenirs to bring back home. Keep an eye out for SPAM-flavored macadamia nuts – you definitely won't find them anywhere else.
Where is SPAM Jam
In Waikiki at the Waikiki Beach Walk, International Market Place, and the Royal Hawaiian Center, which are all located off Kalakaua Avenue.
When is SPAM Jam
The weeklong event is April 22 through May 1, 2022. Find the merch booth and festivities at Waikiki Beach Walk on April 23 from 4:30 - 8:30 p.m., International Market Place on April 28 from 4 - 8 p.m., and the Royal Hawaiian Shopping Center on May 1 from 11 a.m. - 2 p.m.
How to Get to SPAM Jam
The Waikiki SPAM Jam is held at select locations within walking distance from Aston Waikiki Beach Hotel. On foot, head north on Kalakaua Avenue approximately a half-mile. International Market Place will be on your right. Walk north another few minutes and you'll find the Royal Hawaiian Center on your left, with Waikiki Beach Walk just beyond on Lewers Street. The entire walk will take around 15 minutes.
Vendors will be setting up during the festival to sling their SPAM creations. Make sure to arrive early before certain popular items sell out! Stay tuned to the fest's official website for a glimpse of what'll be on the menu at participating restaurants: spamjamhawaii.com/restaurants
Looking for the best accomodations in Waikiki? Consider Aston Waikiki Beach Hotel. Guests can enjoy views of the ocean or Diamond Head, and Kuhio Beach is just across the street. Browse our photo gallery to see more.
Although we strive to provide the most current information, SPAM Jam may change or cancel without notice. We recommend checking City and County of Honolulu or State of Hawai'i mandates and the festival website for the most up-to-date hours and updates.
Special Offers
Nothing beats having some extra money for your travels to Hawaii. Enjoy great savings when you book directly at the Aston Waikiki Beach Hotel.