A Day in Paradise: Waimea Valley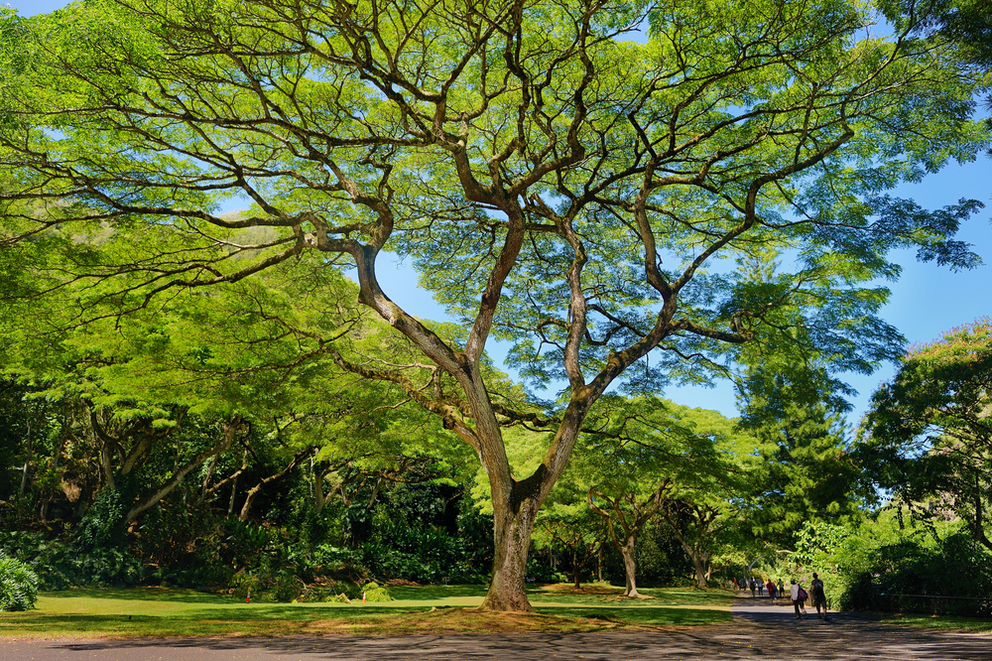 Take a break from the bustle of Waikiki and head North to the countryside. Waimea Valley is an authentic Hawaiian experience focused on the natural flora and fauna of the island, as well as its ancient settlements.
Located an hour north along the volcanic coastline, Waimea stretches from misty mountains to the blue sea. Waterfalls, streams, botanical gardens, and sacred Hawaiian sites are what you can expect from your trip. So, what are you waiting for? Enjoy the slow pace of Waimea.
Waimea Falls
This 30-foot waterfall is a main attraction of the site, and one of the only waterfalls on the island with swimming access (note: swimming isn't permitted after rainfall due to debris). The hike to the falls is roughly 35 minutes through the lush surroundings, but a mild incline and paved pathway makes for an easy walk. Once you arrive you'll find a changing hut and a station for life jackets, which are mandatory. The water is chilly but your body will quickly acclimate to the temperature! Consider bringing along water shoes - we recommend Tabi reef shoes - to better navigate the rocky surface of the falls.
Special sites & activities
Hawaiian game site - Partake in traditional Hawaiian games of skill, strategy, and strength! Games with natural objects are fun to play, especially with kids. Try the Hawaiian version of checkers, stone disk rolling, and other activities.
Sacred cultural sites - Shrines, heiau (religious place of worship), living quarters, and burial temples are just some of the ancient sites preserved in Waimea. Learn about how the kahuna nui (high priests) lived as far back as 1092 AD, when the valley was first dedicated.
Botanical gardens - Take a leisurely stroll through the site's botanical gardens, which have acted as a rescue for endemic plant species and that which was brought over by early settlers from the nearby Polynesian islands. The plants have evolved and flourished in the agreeable climate of Hawaii, creating otherworldly flower forms, ferns and plant species.
Getting there
Waimea Valley is an hour from Waikiki in car, best accessed via H1 W to 99 North. See directions from Aston Waikiki Beach Hotel on Google Maps. Visitors can also opt for public transportation, though trip duration is roughly three hours.
Hours & admission
Waimea Valley is open daily from 9am to 5pm. Closed on Thanksgiving and Christmas Day.
See current admission prices on the website.Shuttle transportation to the waterfall is also available, for a small fee.
--
Kick back and relax at Aston Waikiki Beach Hotel, just steps away from the beach. Our hotel is a mellow gateway to all the action of Kalakaua Avenue, Manoa Falls, and Diamond Head. See our special offers.
Special Offers
Nothing beats having some extra money for your travels to Hawaii. Enjoy great savings when you book directly at the Aston Waikiki Beach Hotel.