Enjoy Epic Views of Oahu's Windward Coast from NuʻUanu Pali Lookout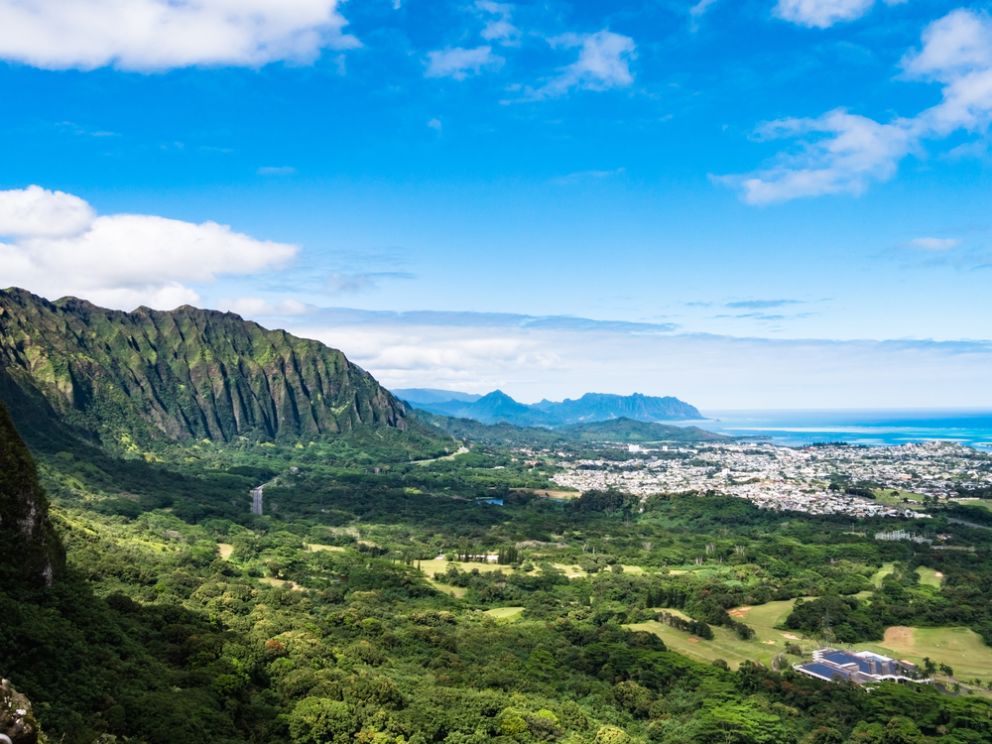 Marvelous vantage points in Oahu are innumerable, but one that you'll want to mark on your map is the historic NuʻUanu Pali Lookout in the Koolau Range. It's located on Pali Highway between Honolulu and Kailua and offers epic views of Oahu's windward coast.
The thing about the lookout is that the view isn't the only stunning aspect; powerful force winds you can actually lean into also leave quite the impression. If the winds aren't enough action for you, signs posted around the lookout warn visitors of bees in case of high winds, as the force can whip the little buggers in your face! Bringing along a hoodie might be your best course of action.
The NuʻUanu Pali Lookout also has a historic significance, as it was the site of the Battle of NuʻUanu in 1795, when King Kamehameha I won his efforts for a united Oahu. Called Kalelekaʻanae, which means "leaping mullet," the name refers to the hundreds of warriors that were run off the cliff during the final leg of the battle.
Once you reach the large lookout terrace at 1,200 feet, you'll enjoy a view framed by sheer cliffs, a pure blue ocean, green mountain peaks and a wide-open sky. Look for Mokolii (Chinaman's Hat); Coconut Island (a marine research facility of the Hawaii Institute of Marine Biology of the University of Hawaii); and the US Marine Corps Base.
The NuʻUanu Pali Lookout is open during sunlight hours and admission is free, but parking (which is abundant) is $3. There are no bathroom facilities or water fountains.
The best way to get there is by car, but if you're traveling without a set of wheels, plenty of tours head to the historic lookout from Waikiki. Get in touch with Pleasant Holidays travel agency, located on-site at the Aston Waikiki Beach Hotel on the third floor or call 808-922-8363.
Interested in the food, culture, and sites of Oahu? There's only one way to experience it, and that's in person. Book your trip to Honolulu! Aston Waikiki Beach Hotel is your best pick in Waikiki. It's located right across the street from the beach and it's central to everything in Waikiki. Plan your trip today and be part of our Coconut Club, which gets you rooftop access and other perks you can't find anywhere else. Read more.
Special Offers
Nothing beats having some extra money for your travels to Hawaii. Enjoy great savings when you book directly at the Aston Waikiki Beach Hotel.