Celebrate Chinese New Year in Honolulu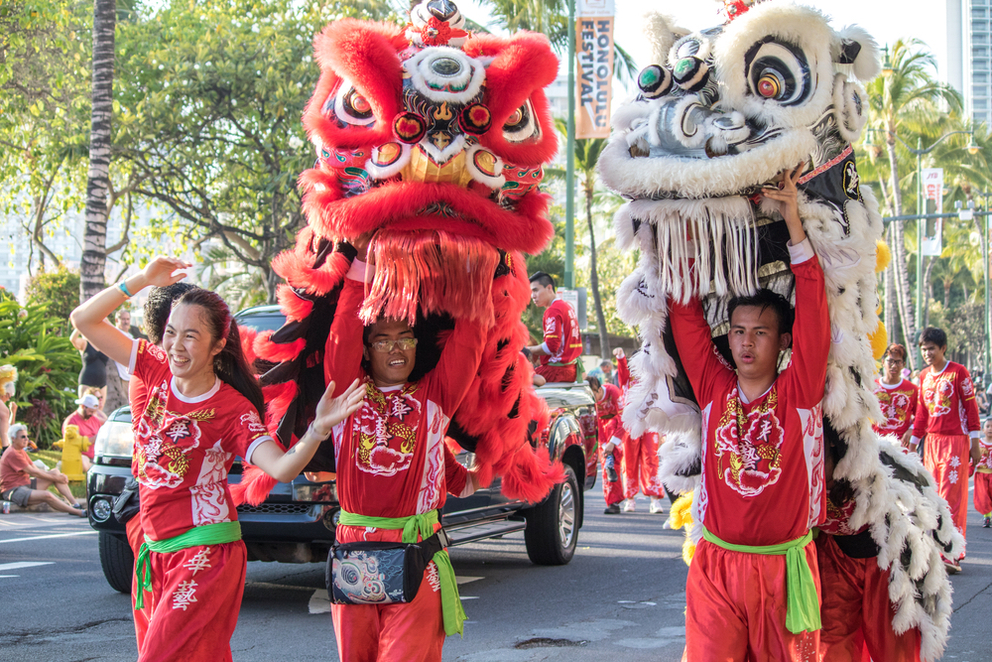 Lunar New Year in O'ahu is kind of a big deal. In fact, Honolulu's Chinatown is one of the oldest in the nation - and the neighborhood knows how to party. Although its annual Chinese New Year celebration is taking a hiatus this year, there are still plenty of places around town that are holding in-person celebrations. Ring in the Year of the Tiger with these fun and colorful things to do in Honolulu.
The Chinese New Year lands on Feb. 1 in 2022 and will be celebrated from mid-January to the Lantern Festival on Feb. 15.
Brings the Kids to See Lion Dancing at Hawai'i Children's Discovery Center
Hawai'i Children's Discovery Center just south of downtown in Kaka'ako Waterfront Park will celebrate the Year of the Tiger with a child-friendly lion dance by the Kuo Min Tang Physical Cultural Association on Feb. 5 at 10:30 a.m. The children's museum also has fun 'Tiger Hand Drum' make-and-take kits available for purchase. Order the kit ahead of time to pick up at your convenience.
Eat Lucky Foods
Chow down on festive Chinese New Year food like jiaozi (dumplings), jai or "monk's food" (traditional vegetarian stew), jook (rice porridge), jin dui (fried sesame dessert balls), gau (sweet, sticky rice pudding), pastries, fish, and tong goh (candied fruits and veggies). Support local businesses in Chinatown by filling your belly with amazing cuisine from one of these local restaurants and Chinese bakeries, which are expected to be in full-swing for the festivities.
Explore Honolulu's Chinatown
The holiday provides an awesome opportunity to get out and explore Chinatown. Visit one of the neighborhood's outdoor markets teeming with fresh flowers, produce, and New Year decorations. You may even come across religious offerings exclusive to the holiday like cookies featuring the Chinese zodiac, prayer scrolls, and incense.
Chinatown is just 5 miles from Aston Waikiki Beach Hotel. To avoid traffic and parking issues, guests can opt for a taxi ride from the hotel or public transportation using The Bus. See map.
Celebrate the Lunar New Year at International Market Place
International Market Place in Waikiki is hosting a special Lunar New Year celebration on Feb. 12 that includes Lion dances, traditional calligraphy, stargazing, and more at Queen Court on Level 1. Stay tuned for details. The open-air shopping center is also offering a lucky Lunar New Year gift from Feb. 1 - 15 with a purchase of $100 or more from the shops and restaurants. Just stop by the Customer Service desk on Level 1 to redeem for a complimentary Honolulu Cookie Company 'Year of the Tiger' Gift Box Set.
Pray at a Temple
Temples generally see an influx of visitors come Chinese New Year, as worshippers light incense and pray for fortune in the year ahead. Visit the stunning non-practicing Buddhist Byodo-In Temple at the foot of the Ko'olau Mountains in the Valley of the Temples Memorial Park. Thanks to its picturesque location and architectural beauty, the temple has become a major attraction on O'ahu.
Go Shopping in Honolulu for All Things 'Red'
New Year's is a boom time for shopping. Scarlet decorations, fireworks, food, and gifts are said to bring wealth and fortune, while warding off Nian, a lion-like creature believed to fear the color. Set the tone for the New Year and brighten up with some color of your own. New clothes are part of the holiday celebration. Check out our Shopping Guide to discover O'ahu's premier shopping destinations.
There's only one way to experience the New Year in Honolulu, and that's in person. If you haven't yet booked your hotel stay, consider Aston Waikiki Beach Hotel, centrally-located to all the activity in Waikiki. With sweeping views of Kuhio Beach, it's just walking distance from major shopping centers and offers excellent onsite amenities.
Book a room with ocean views to enjoy stunning sunsets or of Diamond Head, an ancient volcanic crater and iconic symbol of O'ahu. Check out exclusive offers only available on our website. We hope to see you soon!
Special Offers
Nothing beats having some extra money for your travels to Hawaii. Enjoy great savings when you book directly at the Aston Waikiki Beach Hotel.