5 Foods You Have to Eat in Oahu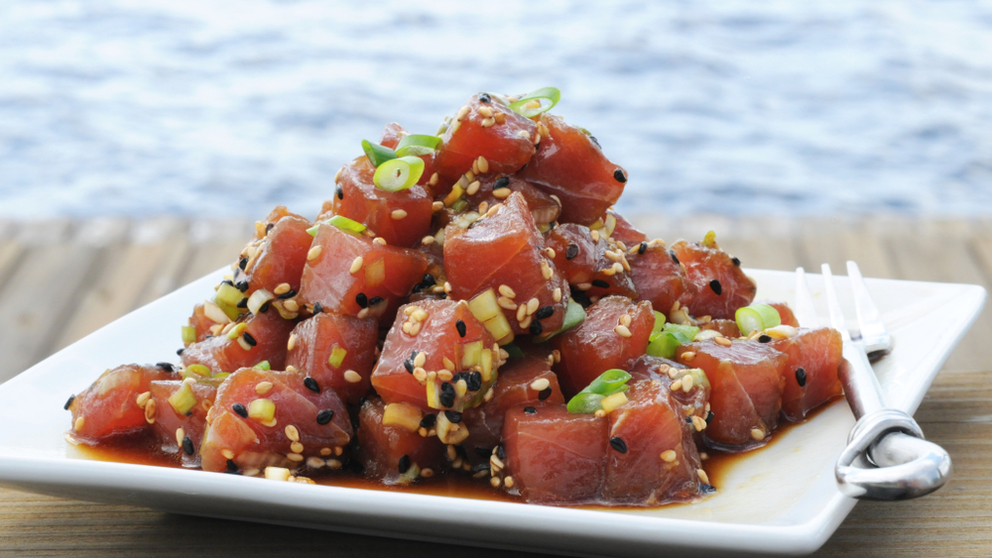 Hawaiian cuisine is rich because of its native roots, foreign influence and geographic location. Fresh fish from the ocean and a lush, native agriculture provides unique fare that can't be replicated outside of the islands. Try these five essential foodstuffs while in Oahu.
1. Loco moco
In Spanish 'loco moco' may sound unappetizing, but this contemporary Hawaiian dish really hits the spot. It goes like this: white rice topped with a hamburger patty, gravy, and an egg. Variations abound! Try the loco moco plate at the classic Rainbow Drive-In at 3308 Kanaina Ave.
2. Laulau
A native Hawaiian dish, laulau is a leafy bundle of salty, mouthwatering meat. Meaning "wrapped package" in Hawaiian, a typical laulau dish calls for luau leaves, which are wrapped with pork shoulder and butterfish. Tied with ti leaves, laulau is steamed for about four hours, producing a moist, succulent meat. Want to see the process in real time? Visit the Highway Inn in Honolulu, located 25 minutes away from Aston Waikiki Beach Hotel. Visitors can learn how laulau is made and order authentic Hawaiian food for a unique dining experience.
3. Poke
With the rise of sushi worldwide, chances are you have a vague idea what poke is. Poke (pronounced po-keh) is raw tuna (or other raw, cubed fish or octopus), dressed with soy sauce, sesame oil, seaweed, sesame seeds, and spring onions. It's simple, healthy, and heavenly tasting, whether topped with avocado or served plain-and-simple. You won't be at a loss to find poke around the island – it can be found in supermarkets, on-the-go, in food courts, and restaurants. Poke is on the menu at Tiki's Grill & Bar at Aston Waikiki Beach Hotel, which even offers a prime rib variation of poke for those squeamish about raw fish. This versatile, colorful and fresh dish is not to be missed.
4. Poi
This pale purple food staple is inherently Hawaiian. High in vitamin A and low in fat, poi is made from the fermented root of the taro (or kalo in Hawaiian). It's certainly an acquired taste and goes great as an accompaniment to laulau or even as a starch substitute. Order poi alongside your laulau dish at Highway Inn.
5. Malasadas
Brought to Hawaii by Portuguese laborers, malasadas (which means 'undercooked') are deep fried balls of dough coated in sugar. More simply, they're donuts without holes. Hawaii loves malasadas so much that Fat Tuesday is known as Malasada Day. Swing by the island favorite Leonard's Bakery at 933 Kapahulu Ave. and order a fresh-stuffed malasada, or maybe a pao dulce, or really go for it and buy a box to enjoy with the whole family.
--
All this talk of food making you hungry? Explore exotic cuisine, pristine beaches and breathtaking views in Oahu. See special offers at Aston Waikiki Beach Hotel, located just steps from Kuhio Beach.
Special Offers
Nothing beats having some extra money for your travels to Hawaii. Enjoy great savings when you book directly at the Aston Waikiki Beach Hotel.